Crisis, savings, economical efficiency, using the personal just like the resources… capitalism? pragmatism, cynicism? some-other-ism?
Everyone everywhere now and always have had the financial problems, bigger or smaller ones: it is very easy to say, that there is not enough of money, that is why things don´t really work like they suppose to. But anyways, is the question more in prioritizing and establishing the "correct" values?
The libraries are among those public services, which are among the first in the list to cut the financing (governmental or municipal – whatever). Budgets are being reduced almost everywhere, in every country, city and village. But then local bosses and politicians are to decide – from what part of the service to cut away.
Customer service: 16 workers in two shifts (8/8) + Saturday, outsourced
Easy assistant work (disabled persons): 6 workers in two shifts (3/3) + Saturday, outsourced
Reprography: 1 worker, outsourced
Security: 3 workers in two shifts + Saturday, outsourced
Cataloging: 4 workers, outsourced
Office work (administration, direction, cataloging, digitization, inter-library loans etc.): 6 workers, own personnel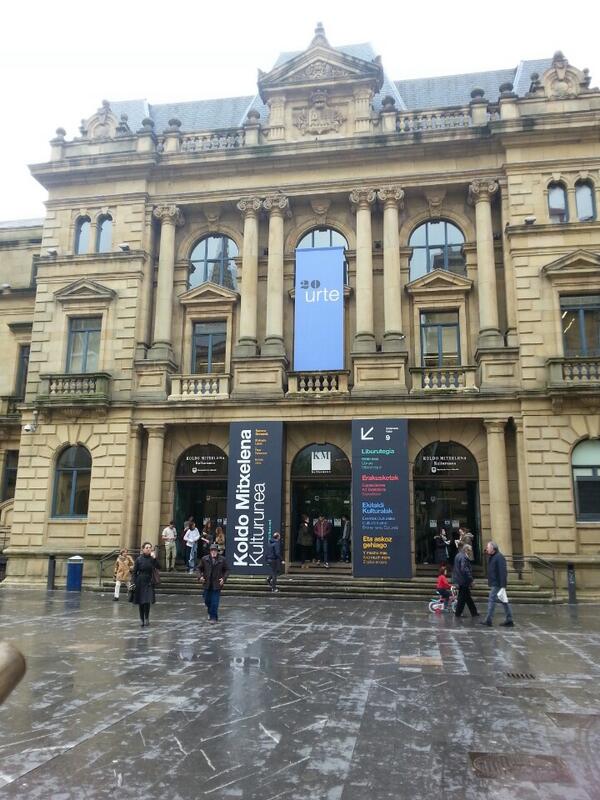 So the biggest public library of San Sebastian with the longest working hours has only 6 workers with the "direct contract", the rest 30 (or something) are outsourced in one way or another. What do you think about it? Is it possible to keep this nice library open this long only with the help of outsourcing? And to keep the services on the high level for a long time?
Outsourcing
You hire a company "to do the same for the cheaper price", you are trying to save on the workforce, but in reality you pay more expensive price. People work in different conditions, don´t have the same information and privileges, can´t and don´t want to include into work with their energy, they don´t suggest innovations, they are bored, they are frustrated about tomorrow, they are tired and you can see it in the results of the work and in the atmosphere of the place. I´m pretty sure if to make a research about correlation between amount of outsourced personal and the satisfaction of the customers you will get quite clear results: the more outsource the less customer satisfaction. This hypothesis is free to use, please try 🙂
The thing is that if you cut away from the personal, you cut away the core, the soul, the motivation and the excitement of work. You cut away the future.
As a library customer I prefer an old shelf tuned by an exited librarian into a colorful piece of art, then a super ergonomic armchair brought by a random tired one day substitutor. Well yes, outsourcing is flourishing not only in the libraries, is everywhere. There is something wrong with this world, no?
Chosen vocabulary of the week:

Martes, 13: No te cases ni te embarques – Tuesday, 13: Don´t get marry, don´t embark

guardar – to save

herramiento – tool

remar – to row, to paddle

malvado – evil