What do you have there what we don`t have here? Libraries/ librarians are same same, but different. It is nice to have a chat sometimes. To talk about your routine and to compare things. Without stressing about official numbers or perfect presentations. To establish a connection. To shake your habitual a bit after 15 years of work at the same point.
I have lately experienced two Skype conferences. The first one about a month ago was organized between three Finnish libraries (Tampere, Mynämäki and Entresse) with librarians from Polyarny (Russia). All participants could speak the same language – Russian, it was easy.
The later one we organized between Donostia – San Sebastian library (Spain, Basque Country) and Entresse library (Espoo, Finland). That was my personal challenge because of the languages. Switching between Spanish and Finnish is not the thing my head was ready for. So now I know: one language at a time. Translations are not really a case in such virtual meet ups.
Anyways, more of such! There is no excuse of not enough budget: you don´t need to travel and internet connection nowadays is absolutely must in the libraries, isn't?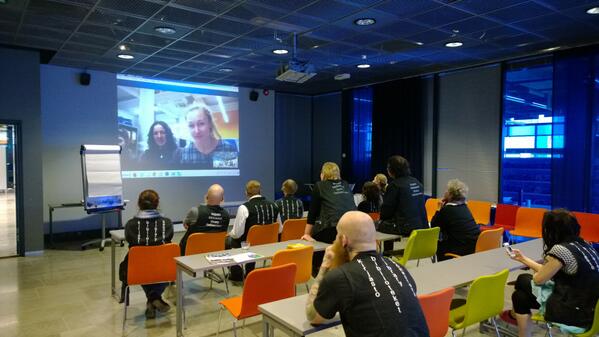 Chosen vocabulary of this week:

un portatil – laptop

un fusible – fuse

un socio – member

una resaca – hangover

un enlace – link